New Patient Physiotherapy Assessment
Session 1: Assessment
Session 2: Results
Weekly 1:1 Physiotherapy Review
Adhoc 1:1 Physiotherapy Review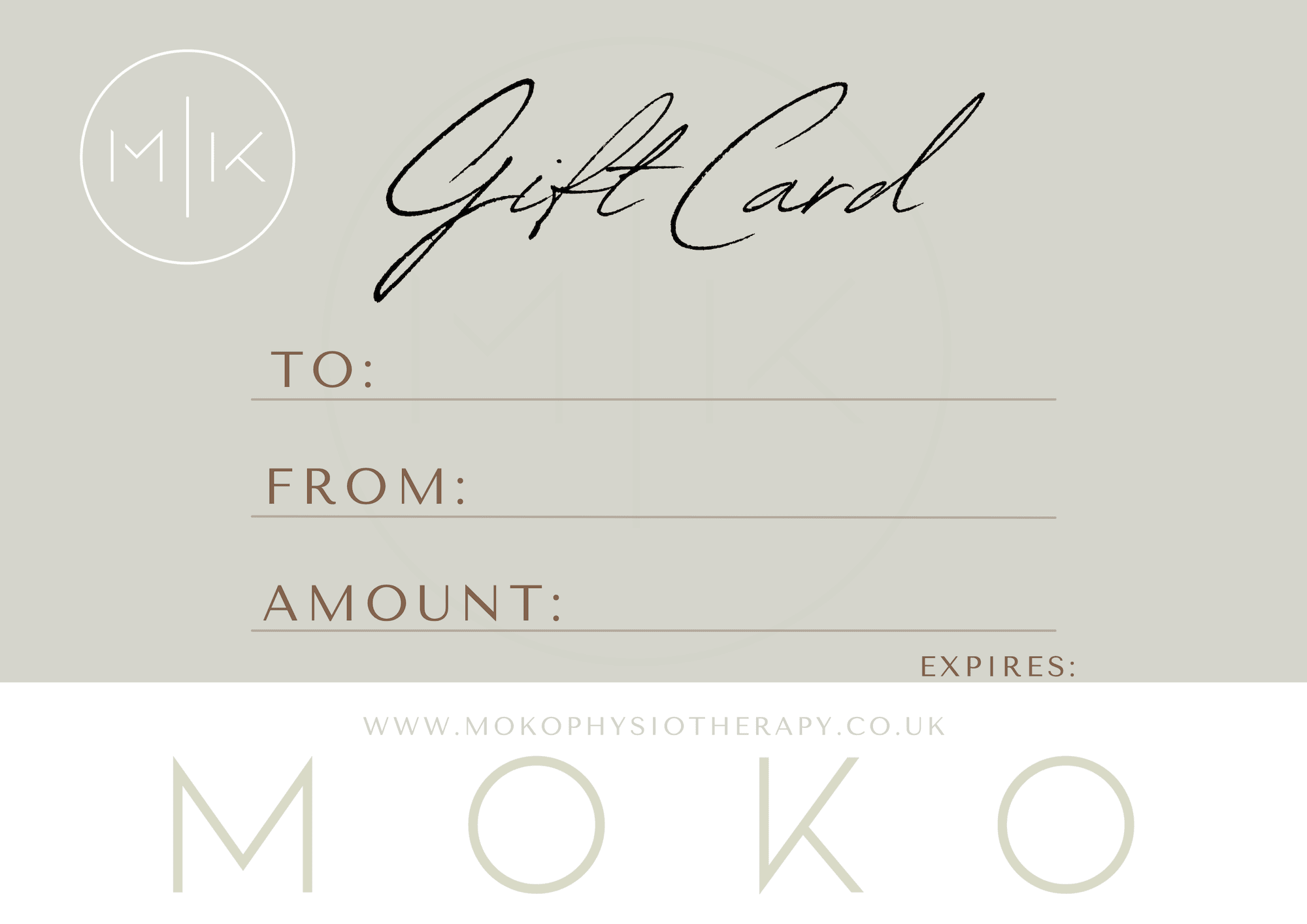 Treat your friends and family members to the ultimate self-care gift by purchasing a gift voucher.

Add credit to the voucher to pay for a specific treatment, such as massage or physiotherapy, or a class pass for yoga or Pilates. Or simply apply a credit to the gift voucher allowing your loved one to choose their service. They can pay the difference to upgrade to a different treatment on the day if they wish.

You can purchase vouchers by popping into the clinic, phoning us on 01332 501098 or emailing us at info@mokophysiotherapy.co.uk

Once payment is received we will give you a hard copy of the voucher or an e-voucher for you to print if you prefer.

Your voucher will contain a voucher code which must be quoted on booking.
Vouchers must be used within 1 year of purchase.
If you refer someone to come and see us we will give you 10% off your next session if you are still seeing us. If you are no longer seeing us, we will give this discount to your friend to use for their initial assessment. Use code Referafriend10
If you work for any of these, receive a 10% discount at every appointment. Use code Publicservice10
If you are a student, receive a 10% discount at every appointment. Use code Student10
If you have had either physiotherapy or sports massage at Moko and leave a review, use code ReviewMoko5 to get £5 off your next session
*note discounts cannot be used in conjunction with any special offers and must be quoted on booking
Saw Katie recently after experiencing ankle pain and was impressed. She's very professional and thorough, and is clearly an expert.
Katie is brilliant. I went to her with aches and pains in my hip after a car accident. I felt completely at ease and supported by her, and trusted her professional opinion. Definitely recommend.
Great massage. Katie really listened to my needs and focused on the specific areas that I needed. Really helpful for advice for exercises and further treatments. Will definitely be booking again.